My Kitchen Cove™ Multi-Purpose Vegetable Slicer Cuts
Regular price
$49.90
Sale price
$32.90
Save $17.00
/
---
GET 2021 AMERICA'S BEST-REVIEWED My Kitchen Cove™ Multi-Purpose Vegetable Slicer Cuts! 
Still cutting and slicing conventionally with a knife?

Although it can be an enjoyable experience and a distressing activity.  But there's always too much to do and too little time! What if there's a way to save your cutting time up to 8 x times?
This tool is a savior for busy homemakers or a "work from home" parent who needs to prepare a homecooked meal every day 3 times or more a day.

It's a new norm now! And an essential must-have tool in every kitchen in 2021!
Get 

EVENLY

and

THIN

 slices, shreds, or grates every time with only one tool!
Best for making

exquisite taste Salad.
This slicer makes your food prep 

8x faster and smoother.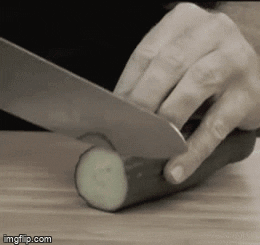 Sliced to Perfection EVERY-TIME
The My Kitchen Cove™ Multi-Purpose Vegetable Slicer Cut allows you to slice or shred your fruits and vegetables cleanly and uniformly. It has 8 super sharp, precise, stainless steel blades which makes it almost the fastest and most precise slicer in the World. Designed perfectly to make tasks easier and quicker in your Kitchen.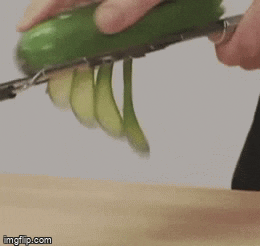 My Kitchen Cove™ Multi-Purpose Vegetable Slicer Cuts with its 3 top-class metal blades:
1. Double blade 4x:  The 4 stainless steel double blades cut 8 times faster and evenly very thin. It is ideal for cabbage, cucumber, cheese, onions and much more.
2. Jullienne:  Julienne cuts everything into thin strips. It cuts in both directions and is therefore twice as fast. It is ideally suited for raw vegetables, salads, stir-fried vegetables and everything that is only briefly seared or cooked.
3. Grater:  For everything that needs to be finely grated or cut. It is ideal for nutmeg, Parmesan, horseradish, carrots, orange or lemon peel and much more.
4. Safety holder:  The safety holder with its ingenious technology hardly leaves any leftovers. The 5 stainless steel pins hold everything that gets smaller. This leftover holder is a must when cutting onions and all small leftovers.
5. Storage Bag (New! in 2021) Keep all parts in this special tailored drawstring bag for your convenience and portable. Now you can bring this slicer cut set in this stylish bag to outdoor activities or camping. 
Made from food-grade steel, this slicer is polished to perfection so that you never have to worry about breakage and rust.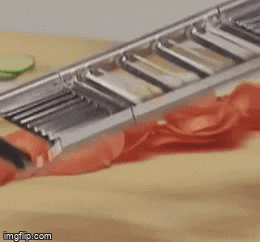 How to Use Your Slicer?
There are 3 interchangeable blades with the Slicer.
All the blades are changeable easily by hand.
If you are wanting to slice something small then put your vegetable/fruit on the safety holder, if not then hold it with your fingers far away from the blades.
Run your food over the blades and let the slicer do the hard work. You will find evenly sliced food every time!
Use Tips:

Best Suitable to cut long vegetables such as cucumber and carrot, in shorter lengths before slicing use a safety holder to have more control and safety.
For the Heavy Slicing, don't forget to use a Bowl below the Slicer.
Hassle-Free Cleaning
Cleaning our slicer is very simple. Just remove the blades and wash them under running water with a cleaning brush.
We suggest cleaning using a brush to properly remove residue left on the cutters.
SPECIFICATION

MATERIALS
PRODUCT SIZE

14.1' x 3.5' x 0.8' (36CM × 9CM × 2CM)

PRODUCT WEIGHT
PACKAGE CONTENTS

1 x Slicer Frame
3 x Blades
1 x Safety Holder (Set with Safety Holder)
1x Drawstring Bag (Set with Safety Holder)
❤️️2021 New Edition! Free stylish My Kitchen Cove Drawstring Bag with every purchase of My Kitchen Cove™ Multi-Purpose Vegetable Slicer Cuts with Safety Holder!🎁🎁

Drawstring Bag Size: 14" x  7.5"

NOTE:
Due to manual measurements, please allow slight measurement deviations.
Due to the different display and lighting effects, the actual color of the item may be slightly different from the color displayed in the picture.
SHIPPING:
Trackable Shipping Worldwide
Shipped from the US. 3-7 days delivery within the continental US. 
We process orders within 1-2 business days of ordering and ship them out the next day after the processing day. 
MY KITCHEN COVE
With every purchase from this shop, you are guaranteed:
Quick, worldwide delivery
An easy return policy
A fun shopping experience
We're your best destination My Kitchen Cove products. Just see what makes our selection special — and listen to what satisfied shoppers have to say.
How much do you charge for shipping?
We provide free shipping to over 200 countries around the world*
*with some exceptions
Will I be charged any shipping, customs or duties fees?
No, the price you see is the price you pay - you won't be charged any extra fees.
When will my item ship?
If you order an in-stock item your order will ship within 2 working days.
How long will my order take to arrive?
Orders are shipped by EMS, USPS, which usually takes 3 -12 working days after dispatch, but may take longer due to factors beyond our control.
Do you provide tracking information?
You will receive your tracking information within 3-5 working days, but sometimes due to free shipping tracking is not available. If not please contact us at support@mykitchencove.com
Can I cancel my order?
You can change or cancel an order within 12 hours. Please contact us at support@mykitchencove.com
PRODUCT QUESTIONS & ANSWERS
Do your products live up to the manufacturing standards?
We can assure you that our goods strictly live up to the necessary manufacturing standards because we care about their quality.
Can I be sure that it is made of non-toxic materials?
Our number-one priority is the safety and security of our clients. We use only high-quality materials to produce our products. So, there is no reason to worry about the quality of the Products.
What's the reason for this low price if the product is as good as you describe?
We do our best to reduce the cost of storing, transporting, etc. That's why we have the opportunity to offer you the best price!
Is it OK to share the photo of your product on social media?
We'll be happy if you show our products to your friends, so don't hesitate to do it!
What are the benefits customers get when buying the Products?
Quality comes above all. So our clients keep leaving positive reviews on our Product Pages stressing that they've got no regrets about the purchase.
ORDERING & STORE POLICIES
What happens if my order is lost or comes damaged?
You can request a refund if your order is lost in the mail or gets damaged during transportation, so feel free to get in touch with us if any of this happens.
How do you pack the orders?
We treat proper product packaging as our top priority because we understand how important it is for customers all over the globe to receive their purchases in perfect condition.
I want to buy the Products! How?
Click on the product option you like the most, and ADD TO CART the chosen variations. Then, follow the instructions to provide us with the delivery address and pay for the purchase. We'll start assembling your package right upon receiving your order.
How many are left?
There are enough items left for a medium-scale order. However, we strongly recommend to make a purchase as soon as possible because the stock is expected to run low by the end of the week.
Is it a reliable store?
We use secure payment methods for all our transactions and guarantee full refunds if your product gets damaged or lost during shipment. Besides, we have a lot of trusting and loyal customers – feel free to check out their feedback.
I am not sure that I should buy it from you. Why to choose your store?
We cherish our reputation and want our clients to keep coming back. Therefore, we don't deceive customers and cash in on them. We don't inflate our prices and don't sell items of poor quality.
Can I just go and buy the identical ones offline?
You're not quite likely to find the items with all these variations offline. Moreover, if you manage to find them, the prices can be significantly higher.